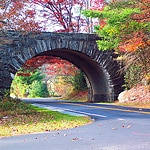 At Sharon Chevrolet Inc. in Liverpool, NY, we love the leaf-peeping road trip season. So stop by our dealership to get your vehicle serviced and talk to our staff about the best leaf-peeping road trips.
Some tips to make sure your road trip goes great this fall are having your vehicle inspected before you go and creating an emergency kit for the road trip. It is vital to keep your emergency kit in the back seat rather than in a truck.
You should also take a map, extra chords for charging electronics, and plenty of water just in case you get out of your vehicle to take a hike. Consider stopping more often than a typical road trip so that you can have an excellent review for photographs. It may also be nice to have everyone put electronics down for certain parts of the road trip so that they can enjoy nature more.