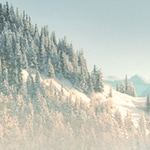 If you are driving and start to slide, do you know what to do? At Sharon Chevrolet, we believe it is important to know how to handle any situation at the wheel. That is why we want you to know what to do when the roads get icy around Liverpool, NY.
The biggest mistake that many drivers make when they start to slide is hitting their brakes. In reality, all this does is lock up your wheels, which you actually need to be turning freely. Avoid the brakes and instead focus on turning into the slide.
Staying calm is crucial to safely correcting a slide on icy roads. Many people over-correct their steering, which can make the situation worse. If it is a small slide, you only need a small correction to your steering in order to correct it. Whichever direction the back of your car is moving is the way you will want to turn your steering wheel.