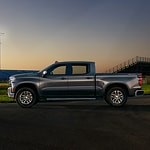 Pickup trucks are known for their power and open cargo area, but the Chevrolet Silverado 1500 also impresses buyers with its innate safety features. Striving to make the journey safer for passengers, the Chevrolet Silverado 1500 incorporates an array of safety features across all trim levels. From intuitive driver assistive enhancements for accident prevention to mechanisms to help maintain control of your truck to loss mitigation efforts, the Chevrolet Silverado 1500 takes safety seriously.
To avoid collisions altogether, the Chevrolet Silverado 1500 relies on a slew of preventive efforts, many of which are automated. Sensors that help detect changes in speed in vehicles ahead and vehicles in the lane beside drivers when they are trying to change lanes are useful for owners of this truck model. Not to mention, viewing assistance in areas that may be hard to see otherwise is also included. These features are commonly known as driver-assistive safety features.
Other safety features included in the Chevrolet Silverado 1500 are less noticeable but just as useful. Anti-lock brakes and stability control help drivers always maintain control of the vehicle, while a variety of air bags in different locations assist in minimizing damage to passengers in the event an accident does occur.