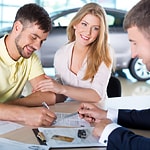 At Sharon Chevrolet Inc. in Liverpool, NY, our team is always ready to discuss whether you want to trade-in or refinance your vehicle. No matter what you decide, we will help you through the process.
If you want to trade in your vehicle, it is usually because you were ready for an upgrade. Getting a newer vehicle is always exciting, and having your current vehicle paid off will help give you the maximum trade-in amount. You can put this trade-in amount toward the down payment for your new vehicle, which could eliminate your needing to save or put down additional funds.
If you want to refinance your vehicle, it may be because you want lower monthly payments. A refinance usually gets you a lower interest rate which will give you those lower monthly payments. You may also have a longer loan after you refinance your vehicle.