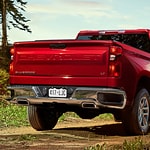 The Chevrolet Silverado 1500 here at Sharon Chevrolet Inc. in Liverpool, NY balances form and function with its design features. The exterior already boasts dominance thanks to the sharp edges and the dynamic presence it contains.
The performance made by the engine and tires makes for a smooth experience, even if the truck is used for heavy-duty tasks. Regardless of the trim or paint job, Chevrolet Silverado 1500 trucks have either chrome highlights or matte-black details found on the grille, rims, and bumper. If the exterior wasn't enough to reel you in, then everything about the interior will strengthen the encouragement; the seats are comfortable and functional at the same time thanks to the positions they can be adjusted in.
Additionally, up to 5 people can fit inside while staying in a cozy interior (especially benefitting for those in the back). The dashboard's crisp and easy to understand, the steering wheel is easy to hold, and the LCD screen is functional as a radio on top of reducing phone distractions thanks to the compatibility with smartphones.