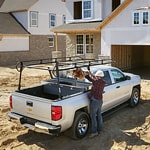 When you're managing your business, you need the flexibility to work anywhere. At Sharon Chevrolet Inc., we know the importance of a well-appointed, efficient workspace. The Chevrolet Silverado 2500HD has multiple design features that make it an on-the-go office win.

Comfort to Command

Whether you're the boss or not, you need a comfortable workspace. The 2500HD gives you a plush interior with enough head and legroom to conduct business in style and comfort. When you have enough room to think big thoughts, enlarging your territory is much easier.

Storage for Every Situation

As you work, you inevitably need a piece of equipment or a document. The 2500HD features multiple storage areas cleverly hidden throughout the cabin and under the seats so that you'll be prepared for anything. You can also save time and money on repeated trips through Liverpool to track down supplies.